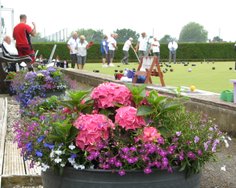 75th Anniversary match against Colchester Borough Bowling Association
Our first celebration match took place on Thursday 17th June, as planned, despite the inclement weather during the preceding 24 hours. The gods were with us for the match to be played starting at 14.00. The rain held off to allow 5 rinks of triples to play 15 ends.
Sadly our President Neil Crockford was unable to attend, so on his behalf Mike Stevenson welcomed the CBBA President Danny Bonner and his team from various local club's including Mersea Island, Severalls and West End to join with us to celebrate the special event.
A close fought match followed with CBBA league team eventually winning by 10 shots overall 67- 57, most rinks were very close with only the odd shot between each team.
On conclusion of the match a short presentation took place to the team of triples with the best win of the afternoon, which had been donated by Neil Crockford, the winning trio was from West End ( Robin Piggot, Paul Hubert and Martin French).
Whilst the event that took place was not what we would have planned for pre Covid, it was satisfying to meet with other local bowlers to celebrate the event. Thank you also to Arclight members who played on the day and to others who helped out both before and on the actual day of the event.