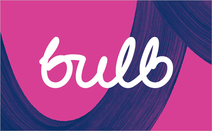 Arclight Bowls Club is proud to be signed up to Bulb Energy as our energy supplier. Bulb claim that they supply gas and 100% green electricity at a very competitive cost to consumers.
If you are interested in getting a quote from Bulb for energy to your home, please use the link below. If you use this link to sign up, you and Arclight Bowls Club will both get a credit of £50 added to their accounts.
Click this link for a quote from Bulb and to claim your free credit -www.bulb.me/michaels0985
If you use the link above please ensure that the page that you are taken to includes a message about receiving a £50 credit to your account.
To check Bulb's electricity and gas prices please click here - BulbTariffs

note:

Don't sign up from the Tariffs page, only from www.bulb.me/michaels0985

Bulb Energy is offering to pay for any exit fees that you may be charged by your present supplier, so you don't have to wait until the end of your existing contract to switch.
Please note:
It is your responsibility to ensure that any quote from Bulb is cheaper and acceptable to your needs. Arclight Bowls Club can not be held responsible for any quote or contract that you agree to accept from Bulb Energy.
Please be aware that the price of gas and electricity can change. Arclight Bowls Club can not be held responsible for any changes in price or terms and conditions of sale.